Tortworth Plants - News
Latest News from Tortworth Plants
OCTOBER 2017
Now that we are heading into autumn, we are very much into planning for next year. This week, we have been busy potting up bulbs, ready for the first sales in the spring. We have also started to order plugs for next year that are produced via tissue culture, which include some of our popular ranges, such as Echinacea and Heuchera, as well as some more unusual lines, like Spiranthes and Roscoea. We are beginning to plan our events calendar for 2018, and looking at the projects that we have to do on the nursery over the winter.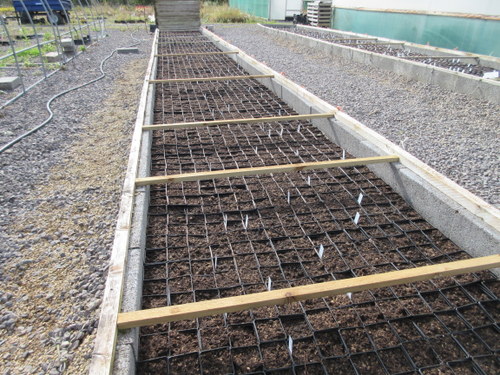 Some of our newly potted 9cm bulbs, ready for early spring sales.
Events
We have now finished our main season of events for 2017. Thank you to everyone who visited us at markets and fairs this year, and we look forward to seeing you again next year. Our dates for next year will be published on the website around Christmas.
We will also be attending a range of Christmas events locally throughout December, selling our range of wreaths and potted plants. These dates will be listed shortly.
SEPTEMBER 2017

We have a busy month of events coming up, and we still have a wide range of plants for sale. Now is a good time to plant varieties that flower in the spring, such as Pulmonaria, Helleborus and Erysimum, to allow them time to establish before flowering and ensure that you get a good display from them in the garden. We are also selling a range of dry bulbs at our September events (with the exception of Stroud Farmers' Market), and from the nursery. We have more than 40 varieties, including traditional favourites and some that are a bit more unusual.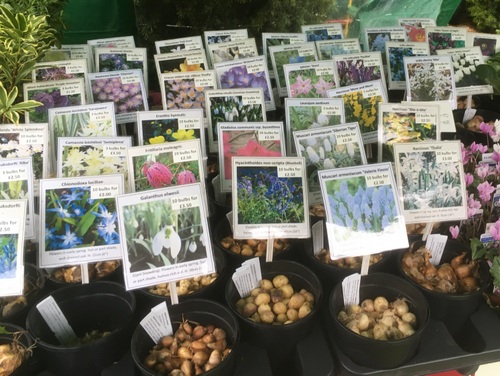 Some of our dry bulbs ready for sale at an event.
AUGUST 2017
We have had a busy spring and summer supplying garden centres, attending events and, of course, propagating and potting at the nursery. At this time of year, we are continuing with this, but also beginning to plan for 2018.
Our 2 litre range is particularly popular at the moment, as people are looking for some instant gap-fillers for the garden. We have a good range available, some of which are pictured below.
APRIL 2017
We have had a busy start to the month, with an increase in orders as the spring weather improves. Pictured below are just some of the trolleys ready and waiting to go to garden centres ahead of the Easter weekend.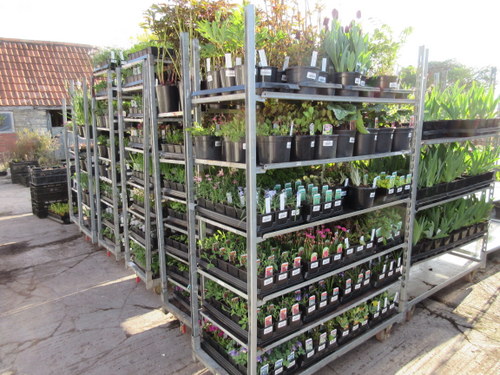 Garden centre orders in the week leading up to Easter.
MARCH 2017

We are now on Twitter, which we are using to post regular updates about life on the nursery, plants of interest and more information about the events that we attend. Click on the link at the bottom of this page and follow us.
We are also busy potting up bareroot plants into 2 litre pots, ready for sales this summer. Also, our range of 2 litre bulbs, including Alliums and Camassias, are shooting well.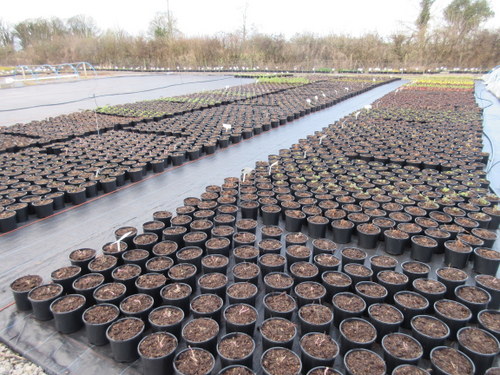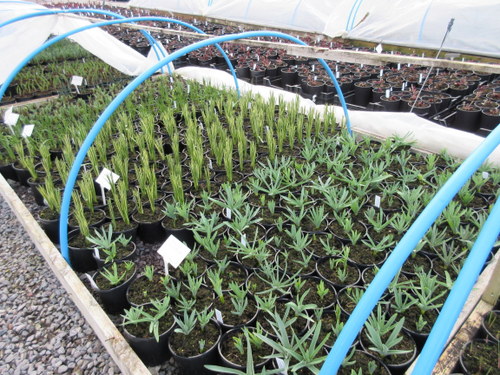 Some of our 2 litre bulbs.
FEBRUARY 2017

This winter has been colder than the last couple of years, which has been good, as it has knocked back the old growth on the plants, and led to a more normal spring, with things waking up slowly. Last year, we had alpines and bulbs in flower at Christmas, which was far too early, but this year the bulbs are just starting to come into their own.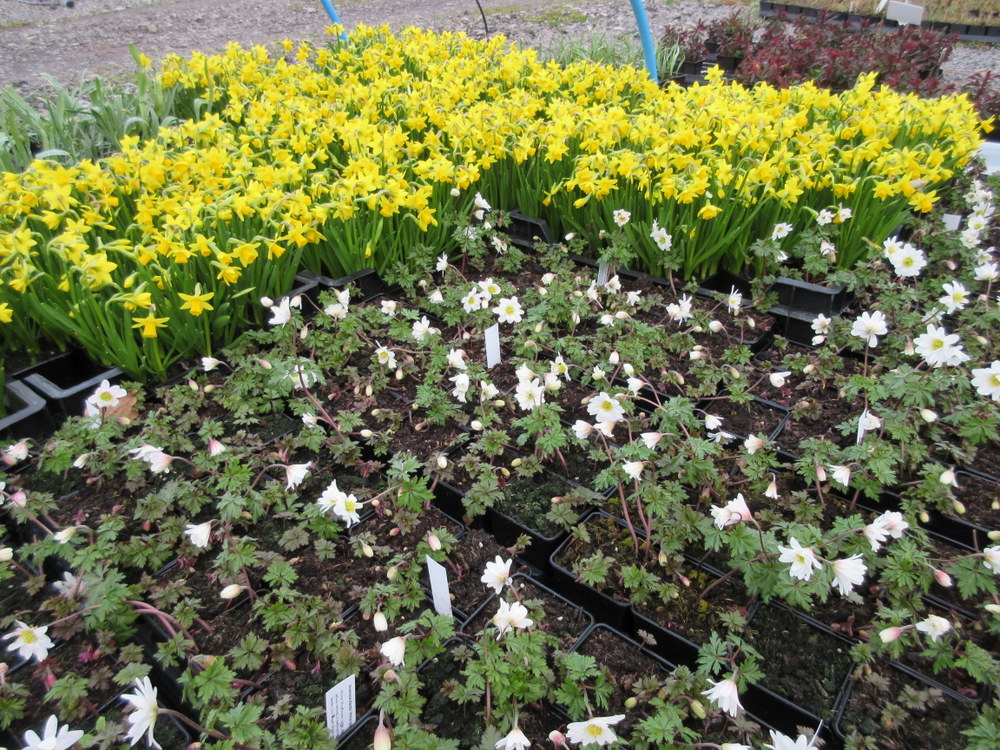 Some of the bulbs we have on the nursery at the moment.
JANUARY 2017
Sunday 8th
We are now back to work after the Christmas break, and busy getting the nursery ready for the spring season. We are still working through the stock that we have, cutting back the herbaceous perennials and tidying up before the fresh growth begins. We have bulbs beginning to come through, and it won't be long before we are starting to pot up more young plants. We have also booked space at most of our events for 2017, so why not take a look at our Events page and pencil some into your diary, to look forward to.
DECEMBER 2016


Saturday 24th
We would like to wish all of our customers a Merry Christmas and Happy New Year.

Keep an eye on our website in the New Year, as we will be adding new varieties to our online shop, and updating the list of events that we will be attending throughout 2017.
NOVEMBER 2016

Friday 25th
We are pleased to launch our Christmas range for 2016, and are looking forward to getting out and about to several festive events with our wreaths and seasonal plants. We will also have our stall at the Tortworth Estate Christmas Tree Sales Yard, which will be there throughout December.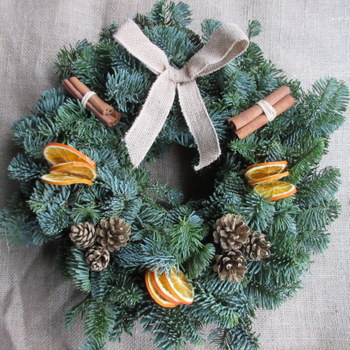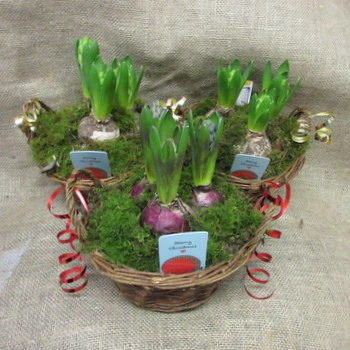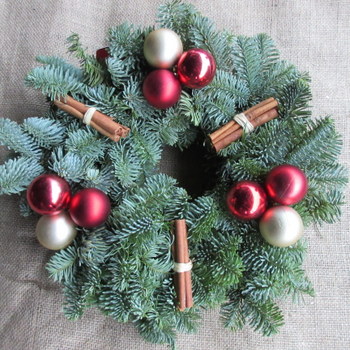 Sunday 6th


Now that the herbaceous perennials on the nursery have begun to die back for the winter, we have started to cut back and tidy up the stock on the nursery, ready for next year. Now is a good time for you to get out in the garden and cut back your herbaceous perennials. However, it is best to leave those that are not quite so hardy until the spring. The old top growth will provide some protection from the worst of the winter weather, and can then be cut back when you see the new shoots emerging in February or March. Plants best left until spring include Penstemon, tender varieties of Salvia and Gaura, to name but a few. Top growth can also be left on varieties that have attractive seedheads, to provide some winter interest. Examples of these include many varieties of grasses, Echinops, Echinacea and Sedum.
Shows and Events
November sees the end of our 2016 main season events. Next month, we will be back with a selection of local Christmas events, selling our range of wreaths and festive plants. Then we will turn our attention to 2017. The events calendar is already filling up fast, and we will be listing dates and venues shortly on our Events page.
OCTOBER 2016

Wednesday 26th
We have been looking at plug catalogues of micro-propagated plants, which we order now for delivery in May/June next year. These include many varieties that are slow or tricky to propagate using other methods, or those varieties that have Plant Breeder's Rights on them, meaning that they can only be propagated by licensed growers. We have enjoyed choosing a good selection for our range next year, including some exciting new varieties, as well as good old favourites, such as Geranium Rozanne.
Tuesday 11th
Now is a good time to look at planting hanging baskets and pots with winter bedding. It's always nice to have a bit of year-round colour to keep things looking cheerful. We also like to add a Heuchera or Heucherella to the mix, as the lovely foliage compliments the flowering bedding, and provides a splash of colour even on the coldest and most miserable days of winter. The basket below contains a Heucherella Sweet Tea, but any variety is suitable - just pick your favourite colour from our selection. We have a nice range of both 9cm and 2 litre pots available. Some of our 2 litre range is pictured below.


Monday 10th

We are lucky to have a wide range of different wildlife around the nursery, but today we had a rare visitor, which caused quite a bit of excitement locally. It is a Hoopoe, which is a member of the woodpecker family not often spotted in the UK. The photograph below was taken by Tortworth resident Fen Marshall, here on the nursery.


SEPTEMBER 2016
Monday 19th
Yesterday, we were at the Rair Plant Fair held at Llanover House. It was a lovely, sunny autumn day, and the fair was well attended. We had plenty of beautiful colour on our stand, and had a very successful day. The garden at Llanover always looks fabulous at this time of year, and this is definitely an event to put into your diaries for next year.

Our stand at Llanover House yesterday.
Saturday 10th
We have been working hard recently to get new plugs potted up, ready for the spring. Most of the plants that we are potting now will root out well throughout the autumn, and then spend the winter outside on the nursery. This ensures that they are good and tough, and ready for planting out into your garden in the spring.
AUGUST 2016

Saturday 20th
Although we are only just over halfway through this year, we have had to turn our attention to next spring already, as we are placing orders for spring-flowering bulbs. We will be selling these as dry bulbs at events throughout September, and then potting up the rest, ready for sales in early 2017. We will have some good classic favourites, plus a selection of more unusual varieties.
Monday 8th
This weekend, we were at the Taunton Flower Show, and enjoyed brilliant weather, and the opportunity to meet lots of our customers. There is always plenty of colour to take to this event, and the stand looked lovely and full of flower. As well as appealing to visitors, the show also attracts plenty of the local bees and butterflies!

Our stand at Taunton Flower Show

Some of the customer purchases left in our 'Plant Creche'.
JULY 2016


Now that we are into the summer season, and past the spring peak of orders, we have been taking the chance to catch up with some potting, to restock our range ready for the autumn. There will be new 9cm and 2 litre plants becoming ready for sale all the time now, so please check back soon.



Some of the new plants that we have been potting this month.
JUNE 2016
This month seems to have rushed by far too quickly! We were lucky to have fantastic weather, once again, for our Open Farm Sunday event on Sunday 5th June, and we would like to thank everyone who came and visited on the day. We have also been very busy with events, whilst still trying to keep up with wholesale orders and work on the nursery.

Our stand at Hellen's Manor.

Our stand at Longstock Park.
OPEN FARM SUNDAY 2016

We are delighted to be taking part in Open Farm Sunday at the Tortworth Estate on Sunday 5th June. This will be the fourth time that we have joined in with this wonderful event, which provides fun for all the family.
MAY 2016
Last weekend was a busy one for us, with Toby Buckland's Garden Festival at Powderham Castle, near Exeter, on Friday and Saturday, followed by Charfield Village NGS Open Gardens on Sunday and Monday. We have also been working hard this week to get a big order ready to go to the mail order company that we grow plants on contract for.


Our stand at Toby Buckland's Garden Festival at Powderham Castle last weekend.
APRIL 2016
Sunday 24th
We have now finished potting all of our bareroot plants for this year, and they are growing away nicely in 2 litre pots. New varieties are rooting out all the time, and will be added to the website as they become available.

Our new batches of plants in 2 litre pots.
Friday 8th
This weekend, we will be at the Rare Plant Fair at The Old Rectory, Quenington, and we have also written an article for the event newsletter, detailing some of our favourite spring alpines. Click here to read the full article.
Saturday 2nd
As the spring season is progressing, the weather is warming up, the plants are growing, and we are getting busier. There is plenty of potting to be done, and the propagation benches are full. More varieties are becoming available all the time, and they will be added to the website as soon as they are ready, so please check back soon.
MARCH 2016
Sunday 13th
This week, we attended the first two plant fairs for 2016, Forde Abbey on Sunday 6th, and Ampney Crucis on Friday 11th. Both were successful, with good attendance, and the weather was reasonably kind to us - apart from a bit of thick fog on Friday!


Our stands at Forde Abbey Plant Fair (left) and The Coach House March Plant Fair, Ampney Crucis, this week.
Saturday 5th March

This week, we have been busy preparing and sending out wholesale orders, as the garden centres are keen to stock up for Mother's Day this weekend. Also, we are off to the first plant fair of the season tomorrow, at Forde Abbey, near Chard, so have also been picking out a good selection of plants to take with us.