Tortworth Plants - Delivery Information
Your order is carefully selected from the nursery to ensure that you only receive top-quality plants. All plants are sent out well rooted into their pots, ready to transfer straight into your garden. We do not dispatch plugs or bare-root plants. Our plants are grown in 9cm, 1 litre, 2 litre and 3 litre pots, as shown below.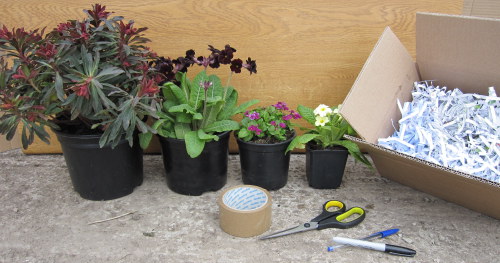 All orders are carefully packed in strong boxes to ensure that your plants do not get damaged in transit.
We usually dispatch orders on the Tuesday of each week, so plants should be received on Wednesday. We aim to send all orders on the next Tuesday after they are placed, but at busy times we may dispatch on the Wednesday, or have to hold orders for dispatch on the following Tuesday. We will send a confirmation email stating your delivery date and the postal service used. Should you have any special delivery instructions, please inform us when placing your order. Wherever possible, please state a safe place that parcels can be left if you are not in, as our courier cannot leave parcels without prior authorisation.
Please note that we are unable to deliver to addresses outside of mainland England, Scotland and Wales. We are now unable to send plants to any part of Ireland. There are surcharges for deliveries to UK Islands, so please contact us for more information, before placing your order. If any order is placed in error for delivery to an area that we cannot supply, we will issue a full refund.
Most of our parcels are sent with APC Couriers, using their next day delivery service. Some orders may be sent via Royal Mail. Please see the table below for our postage and packing charges.
| | |
| --- | --- |
| Order Value | P&P |
| Up to £20 | £8.00 |
| £20.01 - £50.00 | £12.00 |
| £50.01 - £100.00 | £20.00 |
| £100.01 - £175.00 | £30.00 |
| Over £175.00 | £45.00 |
Alternatively, if you are visiting an event that we are attending, we can bring plants along for you to collect. Please email or telephone at least five working days before an event to place your order.